Clothes May Make the Man, But Accessories Make the Outfit
Just like a carefully outlined recipe, crafting a bold and eye-catching outfit takes thoughtful preparation. From the jeans to the outerwear and everything in between, not only does each piece come together to create one look, but it also says a lot about the man underneath.
Often times, guys put so much thought into their outfit that they end up overdoing it--too many colors or patterns scattered throughout can turn an otherwise sexy man into a Barney the Dinosaur-look-alike. Avoid being this eye-sore by keeping it simple, and spicing up your look with accessories instead of main pieces.
Simply adding belts, socks, or jewelry with pops of color will make your outfit noticeable without outshining the rest of your clothes (or you) in the process. And best of all, these little subtleties serve as great conversation starters too. Who doesn't want to look hot and pick up a number (or two) at the same time?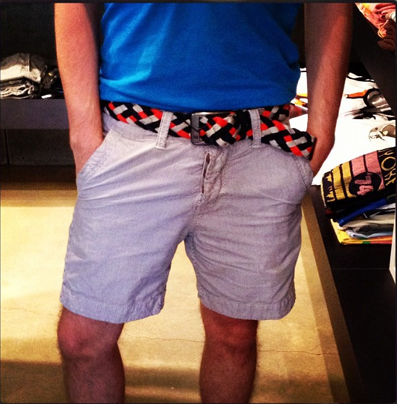 At Universal Gear, our men's accessories just went on sale allowing you to treat your outfit (and wallet) with some steamy kindness. Take your look up a notch by pairing solid tones with a multi-colored belt by Antony Morato or fun and funky socks from Happy Feet. These little touches go a long way in sealing the deal, regardless of whether you're walking the runway or to work.