Things to Keep in Mind When Buying Men's Jeans
Who said the ladies have all the fun? When it comes to denim, they don't. Now more than ever, designers are developing their men's jeans to offer a wider variety of fits, cuts, and styles.
While having options is never a bad thing (especially when it comes to clothes), the higher number of products available leaves more room for male confusion and error when it comes to picking them out. Even though jeans are among the most commonly owned piece of clothing, many are still clueless when it comes to picking the size, fit, and color best for them.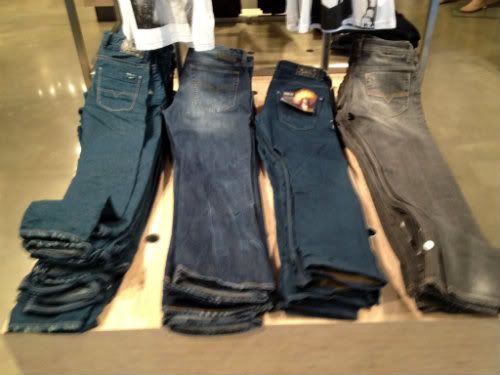 Fortunately, Universal Gear is here to help! In honor of our Fall denim sale, we're offering the following reminders for gents looking to don denim this season:
Before even looking for denim, it's important to know how to size yourself. Remember that men's jeans are measured by two things: the waist size and the inseam size. If you're unsure, take a tape measure to figure out the size of your waist--this is the first number on the tag. Afterward, use it to discern the measurement of your inseam. This will be the second number on the tag. (For example, 34x34 or 34x32)
An added benefit to men's jeans is that they are made in a variety of inseams. To get the right length, the hem of the pants should fall right at the edge of the shoe. If they're any longer, it's likely the jeans will drag or get caught during use. If the jeans are shorter, it's probably a sign that you should go up an inseam size.
Picking the Right Fit
Our favorite cuts for men's denim are the following: straight, skinny, and boot cut. (Regardless of what cut you choose, it's always best to go with a low-rise fitting jean--they'll work to hug and shape your front and bottom perfectly, giving you a slimmer, more silhouetted look!)
Low-Rise Straight
While there are many excellent qualities to the low-rise straight leg jean, the best feature is that they look great on just about everyone. Designed to be slender and straight throughout the entire leg, low-rise straight leg denim are among the most versatile available-- and with the right wash and a eye-popping dress shirt, they're perfect for a casual work day or a first date.
Brands to Try: Levi's Slim Straight, G-Star ATTACC Straight Leg, Diesel Viker, Hudson Byon, or the DL1961 Vince.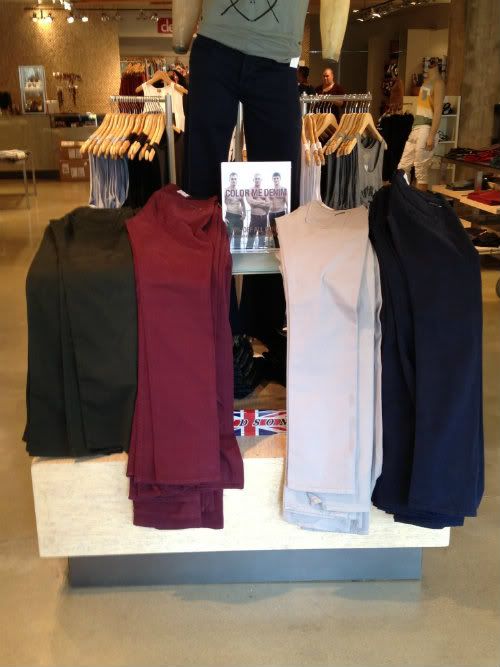 Low-Rise Skinny
Taking straight leg denim to the next level, low-rise skinny jeans are increasingly fitted and slender throughout the entire pant. By wearing this tapered cut of denim, one can easily capture an edgy look. (And because there is a bit of flare slightly cuffing the bottom, low-rise skinny jean show just a bit of ankle--ideal for a brightly colored sock!) Even though they're among the most popular and "in" type of jeans on the market right now, that doesn't mean they fit everyone well. Low-rise skinny jeans are ideal for thin, averagely proportioned men who are looking for a trendy yet raw look.
Brands to Try: Levi's Skinny Straight Leg, Diesel Safado, Scotch & Soda Ralston, or the DL1961 Russel.
Low-Rise Boot
Just like the low-rise straight leg, boot cut jeans are awesome because they're made to fit nearly every body type well. And while they're just as versatile as the straight leg, the boot cut is an excellent fit for a man with more meat on his bones. This fit works to create a visual illusion which evens out the top and bottom of the pants to perfection. And because there are a variety of washes available, it's easy to find a boot cut denim that is workable for a casual day at the office or a night on the town.
Brands to Try: Levi's Low-Rise Boot Cut, Diesel Zathan, or the Diesel Zatiny.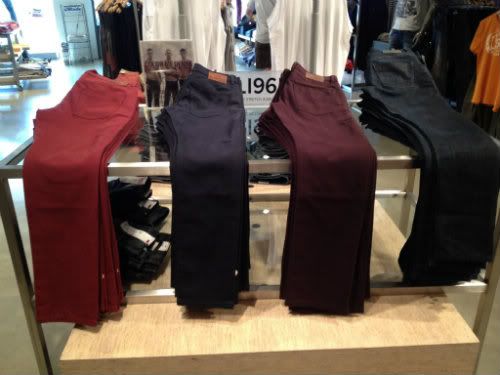 Picking the Right Color
Generally, one can't go wrong with denim color--all you have to do is pick one! One of the most noticeable denim trends this fall are the added splashes of color! No longer manufactured in only the staple "blue," men's designer jeans are now offered in a plethora of colorful options based on a fall jewel tone palate. Working together to add drama and intrigue to any outfit, colored denim requires minimal effort to pull off--regardless of how daring your fashion sense is! For those who are slightly apprehensive of colored jeans, try pairing them with a neutral colored top such as beige, grey, or white. (Accessories are excellent ways to add further splashes of color!) For the bold fashion-minded man, colored denim works well with a bold printed shirt. Instead of making the bottoms the focus of the outfit, this pairing option spreads color throughout the outfit and makes more of a statement. Just be sure not to overpower the look! (To prevent this, neutral-colored accessories work best to accentuate the colors you're already working with!)