Limited Edition Reebok Sneakers Inspired from Keith Haring Cartoons
As a company that boasts it's fashion forward nature, Universal Gear prides itself on regularly looking at the past for inspiration for the future. Among the most inspiring pieces we're set to receive in Spring 2013 are these sneakers by Reebok that don the designs of the late cartoonist Keith Haring.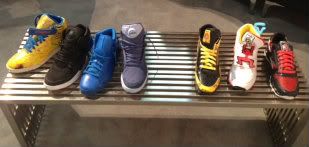 Born in in Reading, Pennsylvania in 1958, Keith Haring was a world-renowned artist that was dedicated not only to producing art for the people in very public forums, but also pieces that depicted strong social messages. While studying at the School of Visual Arts in New York City, Haring experimented with several mediums such as performance, video, installation, and collage but always remained committed to his first love: drawing.
It was also during this time that Haring developed close collaborative relationships with other performance artists, musicians, and writers who were also members of the burgeoning art community--like those he surrounded himself with, Haring was determined to find an effective canvas for which he could spread his art (and social messages) to the masses. Eventually, Haring began creating chalk drawings on blank paper panels throughout the subway system. Between 1980 and 1985, Haring worked feverishly on his subway drawings, producing hundreds during that time period. He also became well-known with the public, as several New York commuters would engage the artist in conversation as they passed by.
Even after being diagnosed with AIDS in 1988, Haring continued his endless efforts to spread art and awareness to the public around him. The next year, he founded the Keith Haring Foundation--an organization dedicated to providing funding and imagery to AIDS organizations and children's programs, while also expanding the audience for his work. During the last years of his life, Haring used his artwork as a medium to speak about his illness as well as raise awareness about AIDS.
Although Haring sadly died in 1990 from AIDS-related complications, his brief but intense career that spanned over the course of a decade has made him a cornerstone of American art and pop culture. Since his death, Haring has been the subject of numerous international retrospectives and has his art featured in major museums worldwide.
It is because of his beautiful creations and relentless dedication to social messages that Reebok has decided to produce a very small number of limited edition sneakers that will feature Haring's cartoons. Universal Gear is very excited to have a limited number of these shoes coming to our stores in Spring 2013 and look forward to honoring Haring's legacy to social awareness and creative integrity!